Our well trained coaches will thrill your child with 50 minutes of highly creative, high energy and age-appropriate activities that serve as a great introduction to soccer, and help children master developmental milestones, appropriate for their age.
Coach Liz Berry
Lil' Kicker & Skills Institute Coordinator
Liz attended Canastota High School and was a member of the Girls Varsity Soccer & Softball Team, receiving awards for Section III All-Star Class B in softball along with MVP and Most Dedicated Player in soccer. In 2006, she attended Morrisville State College and earned an Associates Degree in Business Administration. She was a member of the Women's Soccer and Softball team. Liz moved onto SUNY IT to complete her Bachelors degree in Business. Liz has been a Lil' Kickers Coach since 2009, taking on the role of Coaching Director in 2012. She currently works at SUNY Morrisville as the Assistant Director of Financial Aid and has a passion for youth soccer.
Eric attended high school in the Sag Harbor, a small town in Long Island where he was all county in soccer and baseball. He moved to Syracuse after receiving his bachelors degree in physical education from SUNY Cortland, where he was a 3 year starter for the football team. He lives in Cicero with his wife Brooke, and his two Lil Kicker's Ethan and Dylan. He teaches physical education for the Syracuse City School District, and is a sectional champion basketball coach. He has coached Football, Baseball, Basketball, and Soccer at all levels including varsity. After receiving his masters in education, Eric is working toward his degree in educational administration at LeMoyne college. During the summer Eric is the Chief Ocean Lifeguard for the village of East Hampton, and is a national champion competitor. Eric has spent his career working with kids of all ages and skill levels. This is his third year at lil kickers, and is excited to be working as one of our coordinators.
Coach Jason McCabe
Coach Jason attended Dutch Fork high school in Columbia South Carolina where he was a 3 year starter in the goalkeeper position. He was nominated to the All-Region team his junior and senior year and was also All-State his senior year. He played on the North-South All Star game his senior year and was also nominated Player of the Year for his club in 2005. Jason went on to play for University of South Carolina Upstate , a small division I school in Spartanburg South Carolina and went on to be a 3 year starter. While playing for USC Upstate he was named a 2 time Atlantic Sun player of the week and an All Conference and All Academic selection for the Atlantic Sun conference his senior year. By the end of his season his senior year Jason was ranked 4th in the nation in saves, 6th in the nation for saves per game, and 18th for save percentage. He was also nominated Defender of the Year and Team Leadership Award his final 2 years. He still holds numerous records for his school.
Coach Allan Schroeder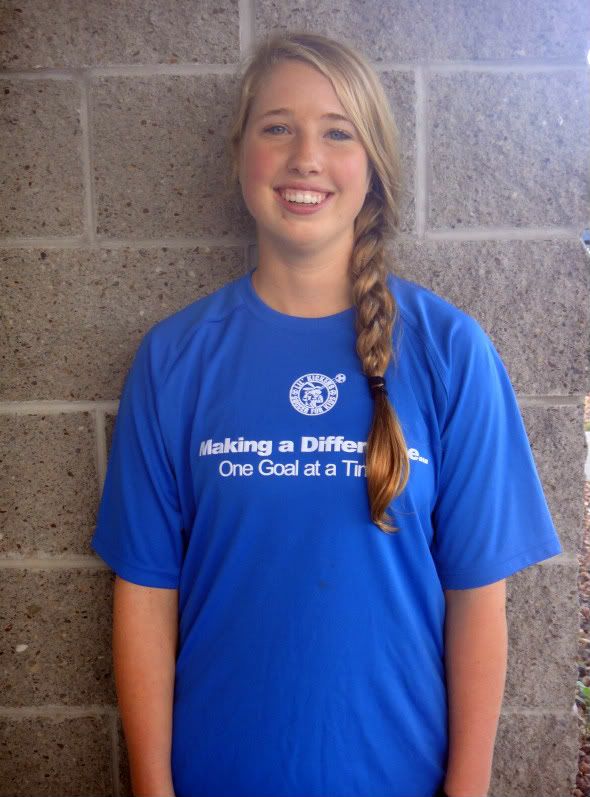 Allan Schroeder Lil' Kickers May 2013
Coach Allan attended Bolton Central School, a small school on Lake George in the Adirondacks. He was a four year varsity player and senior captain. He moved to Central New York while attending Morrisville State University to study Exercise physiology and wellness. He played four seasons at Morrisville as a defender. Continuing his education at Morrisville he became an assistant coach of the Men's team for two seasons working with goalkeepers and fitness coaching. In the past, during the summers, Allan was the head coach of a NYS mid-state amateur women's league. From there he became a head coach of U-11 girls academy team in Utica. Allan also played two seasons in the NYS Mid-state amateur men's league B division where his team went on to win the division championship in 2012. Recently, Allan has worked as a coach at the SU junior orange camp.
Coach Allan holds a holds a diploma for a NSCAA level 6 coaching license. Allan lives in Cicero with his girlfriend Rebecca and enjoys traveling in his spare time.
Coach Sarah Foran
Sports played: High school Varsity Tennis. Junior Varsity Softball & Soccer. Black Belt in Martial Arts.
Education: Chittenango High School
Occupation: Lil' Kickers Coach












Coach Megan O'Shea
Coach Meg has been a Lil' Kickers coach since 2008 and attended East Syracuse Minoa high school where she played soccer and lacrosse. Meg was very accomplished while playing soccer at ESM where she was NSCAA Academic All-American, 2 time NSCAA Regional All-American, 2 time 1st team All-CNY, 2nd Team All State and a 2 time Player of the Year in the Freedom League! She went on to major in Biology at Le Moyne College and played soccer all 4 years. she was named MVP her junior year and still holds records including 6th leading scorer, 2nd in game winning goals, and 4th in assists. She now attends Upstate Medical University with a focus in Doctoral Physical Therapy and hopes to work with kids as a pediatric physical therapist.
Coach Samuel Bender
Coach Sam went to high school at Living Word Academy (LWA) and graduated in June of 2011. He played intramural soccer and Section III Class D volleyball and track, winning two Section III titles in both volleyball and track. He received the coaches award in the 2009-2010 season and the MVP award in the 2010-2011 season for volleyball.
Coach Sam is currently attending Onondaga Community College (OCC). He hopes to become a Laboratory Technician. While enrolled at OCC he has played for the Men's Soccer team. He has played the 2012 season, and the Men's team reached the start of the NJCAA tournament.
Sam has coached at LWA since his junior year of highschool, assisting with various age groups. He also helped coach at Syracuse University's summer camp for kids during the summer of 2012.
Coach Brianna Scheftic
LK Coach Since: October 2011
Sports Played: Modified soccer 2 years. Soccer U15/16 Salt City Crush, Liverpool Softball Senior League
Hometown: Chittenango, NY
Education: East Syracusa- Minoa High School
Occupation: Lil' Kickers Coach
Coach Katherine Foran
Coach Katherine grew up in Canastota NY where she played soccer, basketball and competed on the track and cross country team at Canastota High School. She went on to attend SUNY Stony Brook where she got her BS in Marine Sciences. While attending SUNY Stony Brook she competed on the Rugby team and was named to the MetNY U23 Rugby Select side and Empire Rugby 7's. When Coach Katherine grows up she wants to be a BIG kid and her life motto says that "Happiness never decreases by being shared"